Short on Time? Here Are The Best Meal Delivery Services for Athletes
The Best Meal Delivery Services for Athletes Reviewed
Factor is a health-focused service that specializes in high-quality prepared meals – my top pick for athletes and anyone else wanting fuss-free, diet-friendly dishes that can be on the table in minutes.
All the meals are single-serving and arrive fresh and fully prepared, which means all you need to do is pop them in the microwave. The menu boasts an ever-changing lineup of low-carb and keto-friendly dishes, with many low-calorie and high-protein options and a flexitarian meal plan as well.
There are also some plant-based meals. Look out for flavorful entrees like the Three Bean Vegan Chili with Cornbread Casserole and Tofu Crema or the Peanut Buddha Bowl – a great way to cram 1 or 2 meat-free days into your week that are still high in protein.
You can pick up a range of add-ons for those weeks you don't have time to get to the grocery store. Add other goodies to your box, including smoothies and cold-pressed juices, keto-friendly snacks like peanut butter macaroons, and high-protein breakfasts like the Apple Cinnamon Pancakes or Bacon and Cheddar Egg Bites.
There are extra pre-cooked proteins available, too, including salmon and chicken fillets, and no-cook picnic packs – though these will all vary from week to week.
When you sign up, you'll get a free 20-minute session with an in-house nutrition coach – something that my colleague thought was a great touch when they reviewed Factor's service. If you're finding that you need some guidance with weight loss, eating for fitness, or overhauling your eating habits, there are further optional programs to sign up for.
Factor's pricing starts from $6.19 per serving, with the option to order between 6 and 18 meals per week. It's one of the more costly services out there, but the premium ingredients, high-protein dishes, and convenience will be worth it for many.
Key Features
Sustainably sourced, certified organic ingredients

45+ recipes on the menu each week

Dietary options include keto, high-protein, gluten-free, and more

Current deal: Get $250 off + free shipping
Green Chef delivers a wide variety of colorful, organic produce and ingredients in your box every week so you can craft your own healthy meals in the kitchen. This service focuses on easy-to-follow recipes and quality, handpicked ingredients, and most of the meals are ready in around 30 minutes.
Green Chef's plans accommodate different dietary needs particularly well, with options including Keto, Plant Based, Mediterranean, Gluten-Free, Protein Packed, and more. There's also a Quick & Easy menu for those nights you're late home from training – these meals that can be ready in 25 minutes or less.
Whichever plan you choose when you sign up, this is just a guide to allow Green Chef to recommend meals that suit your lifestyle – you'll always have access to the wider menu when you place your order. It's ideal if others in your household have different dietary preferences from you, and another reason why it ranks so highly on my list.
The recipes are exciting, varied, and take their cue from a number of global cuisines – think Peanut Chicken with Udon Noodles, Honey Sesame-Roasted Carrots, and Scallions, and Middle-Eastern Style Beef Bowls with Rice Pilaf, Red Pepper, Feta, and Spiced Yogurt.
My colleague was impressed by the quality and taste of the dishes, as well as the fact that many of the recipes came with prepped ingredients, including chopped veggies and ready-to-use seasonings and marinades to streamline the cooking process.
Plus, you can feel good about the sustainability of the packaging, as well as the food. Everything is made using recyclable, reusable and/or compostable materials where possible and there is a wealth of information about this on the website.
Servings from Green Chef start at $9.99 when you select the largest plan size for 6 people, making it a great option for bigger households. Choose between 2, 3, or 4 recipes per week for 2, 4, or 6 people.
HelloFresh is here to make sure you never get tired of eating the same old things for lunch and dinner, with more than 60 recipes to choose from each week. The huge variety means you get to enjoy the flexibility of planning your meals, without the hassle of shopping for ingredients.
The meals are really family-friendly, with tons of options for picky eaters and the ability to make customizations on some of the dishes. Look out for kid-friendly meals like Chicken, Zucchini, and Tomato Flatbreads with Lemon Ricotta and Fresh Parsley that are still high in protein and take just 25 minutes to make.
HelloFresh is also a service that prioritizes sustainably sourced proteins and local produce, so it's especially great if you're trying to be mindful of the foods you're consuming. You can learn more about the quality of HelloFresh's ingredients – and just how good the meals really are – in my colleague's tried-and-tested review.
Choose from plans including Meat & Veggies, Pescatarian, and Fit & Wholesome – the latter of which is specially designed to support an active and healthy lifestyle. You can order as many as 6 portions of a dish if you're bulking up, and carb- and calorie-smart options are available as well, alongside easy prep and easy cleanup recipes that save on time and washing up.
Whichever plan you choose, you'll always have access to the full menu, including HelloFresh's online marketplace, where you can pick up quick-cook lunches and breakfasts, sides, fresh produce, and extra proteins like steak, salmon, and chicken breasts.
Prices start at just $3.32 per serving, making HelloFresh one of the more affordable and certainly more sustainable options for athletes on this list. Order up to 6 recipes per week for either 2 or 4 people.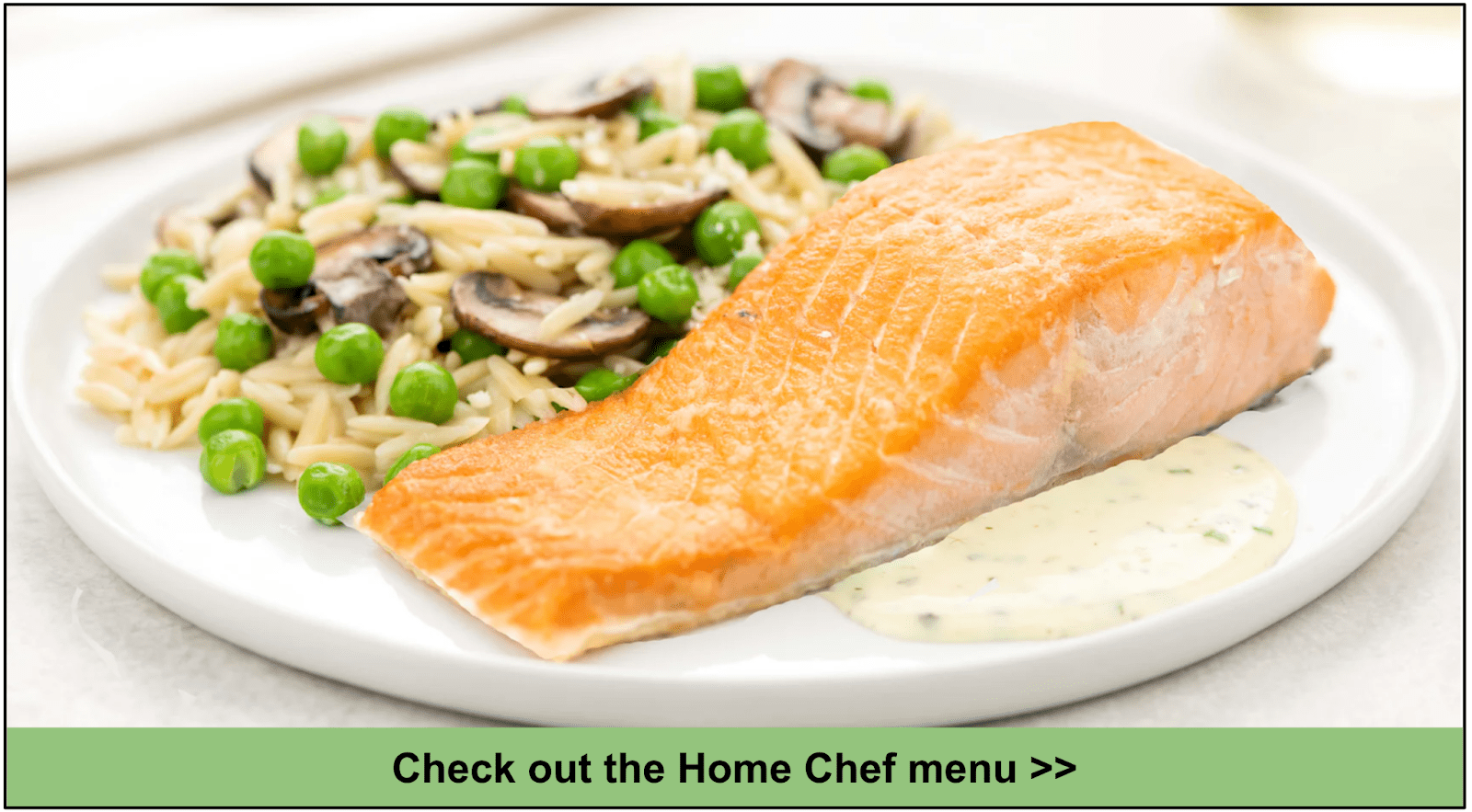 Key Features
Wide range of meal types to suit all schedules

30+ recipes on the menu each week, plus extras

Dietary options include vegetarian, carb- and calorie-conscious
Home Chef's recipes are familiar and fast – perfect for when you need a meal in a snap. You can customize your order to feed up to 6 people at a time (making it a great option for families) or just have plenty of leftovers to help hit all of your macronutrients throughout the week.
There are carb- and calorie-conscious meals available, which come in at less than 35g of carbs and less than 625 calories per serving, respectively. The menu also includes vegetarian entrees and you can use the Customize It feature to turn some of the meat-based meals vegetarian. This is something my colleague discovered when they reviewed Home Chef.
The Customize-It feature is Home Chef's biggest draw, as it allows you to control the protein type and quantity in almost every dish. So if you want to double up on chicken or shrimp, you're able to do so (for an extra charge). Some recipes even allow you to switch the protein altogether or upgrade to organic.
You'll also be able to choose from a varying range of meal types – from Express Meal Kits that take just 15 minutes and Oven-Ready Meals to the even speedier Fast & Fresh dishes that can be microwaved in minutes. For weekends, or those days you have extra time in the kitchen, the meal kits and Culinary Collection meal kits will typically take around 30 to 40 minutes to cook.
There are also a ton of extras to choose from, including smoothies, sides, snacks, and salads that come with pre-cooked proteins. You can also add protein packs to your order, including ground turkey, chicken breast, salmon fillets, and Italian sausages. That's great news for your muscle recovery, right?
Home Chef servings start at $7.99 for the maximum box size (6 meals for 6 people each week). However, you should keep in mind that some protein customizations will affect the total cost.
Key Features
Portion-controlled for those on rigorous diets

150+ meals on a rotating weekly menu

Dietary options include keto, gluten-free, vegan, and more
BistroMD delivers prepared meals that are flash-frozen for convenience. If you're specifically looking to lose weight, this service allows you to enjoy calorie-controlled dishes without having to worry about what to eat week after week. On the other hand, if you're training rigorously, BistroMD's meals may not provide enough calories for you.
All the meals provided follow either an average 1,200 or 1,400 calories-per-day plan, with different programs for men and women, and are based on a nutritionally balanced scale comprising approx 40% lean protein, 30% complex carbohydrates, and 30% healthy fats. For specifics, my colleague goes into more detail in their BistroMD review.
The programs include the popular Keto-Flex option, which is rich in meat, cheese, and eggs, while others include the Heart Healthy and Diabetic-Friendly, and the Gluten-Free plan, which has been tested to FDA standards to not include wheat, rye, or barley.
BistroMD also has a 100% Vegan meal plan. It's designed to provide more protein than regular vegan meals but still remains carb-conscious. Most meals on the vegan menu feature around 40g of carbs per serving and between 200 and 450 calories. However, if you're looking for a higher-calorie plant-based service, Fresh N Lean is a better choice.
You'll get all you need to eat in a day, with the option to include snacks like whey protein bars, nut mixes, and shakes, so you don't need to worry about additional grocery shopping. Typical high-protein meals include options like the Artichoke, Spinach, and Roasted Red Pepper Frittata, and Smoked Chipotle Pork and Eggs, and there's the option to substitute dishes you don't like, too.
Subscribing to BistroMD also gives you access to online tools and registered dietitians to help support you in your fitness goals. If you're looking for a community space that'll help you stay on track – in addition to meal delivery on your doorstep – you're in the right place.
BistroMD prices start at $8.24 per serving. Choose from either a 5- or 7-day plan that includes 2 or 3 meals per day plus snacks. The 2 meal-per-day plan doesn't include breakfast.
Key Features
Heat-and-eat meals ready in 3 minutes

Around 40+ entrees on the menu each week

Dietary options include keto, paleo, plant-based, and traditional
EatClean's prepared meals are perfect for athletes who want to stock up on a few quick-to-cook fridge fillers. The menu offers a great variety of cuisine types, including some global-inspired dishes. Everything is designed to be balanced, and nutritious, and has been made using organic ingredients and premium proteins.
The plans cater to various diets, including keto, paleo, and vegan-friendly. The Traditional menu is the largest, with around 15+ entrees to choose from each week – look out for meals like Ground Turkey Italian Bolognese and 12-Hour Pulled Pork with Plantain Mash. Our in-depth review outlines each of the plans in more detail.
Some meals are even inspired by your favorite takeout, like the Turkey Bacon Pita Pizza and the Grass-Fed Beef Burger. Everything is designed to be balanced, with lean animal proteins, grains, and produce.
You can pick up 1 or 2 sweet options on the menu, like the Almond Strawberry Protein Scone with Fresh Fruit or the Dark Chocolate Chip Keto Pancakes (pictured), which work well for breakfast or as a snack. Everything is delivered fresh and ready-to-eat (or heat-and-eat), with options for both microwave and oven cooking.
There are no add-ons or customizations available, such as smoothies, snacks, or extra proteins, so it's not quite the one-stop-shop that other meal delivery services on my list, like Factor, provide. That said, you can upgrade from regular to large portions for $1, which is a great option for athletes with a big appetite.
EatClean prices start from $8.60 per serving, making this one of the more budget-friendly options on my list. Order between 6 and 14 meals per week, though you'll get the better value the bigger your box.
Key Features
Meal kits, prepared meals, and extras

20+ entrees on the menu each week

Dietary options include carb- and calorie-conscious
Fresh and Easy is the quick-cook plan from Home Chef. It's the perfect meal delivery service for anyone who primarily wants home-cooked meals that require minimal prep and cleanup, but you'll still have access to all of Home Chef's usual perks – including its wider menu and premium ingredients.
You'll also be able to customize your dishes with proteins of your choice. Swap the shrimp in your Sundried Tomato Shrimp Pasta for diced chicken thigh, skinless chicken breast, or steak strips, for example. In many cases, you can also double-up on the protein portion and upgrade to organic meats.
Fresh and Easy's recipes are packed with shortcuts, as our reviewer discovered. Look out for Oven- and Grill-Ready options which contain prepared ingredients assembled inside an oven-safe tray or a grill-safe bag, as well as the Express meal kits where everything is portioned for speedy cooking.
You'll also find a range of Fast & Fresh microwave meals – though note that these can't be customized due to their pre-prepared nature – plus healthy and varied salad entrees that come with pre-cooked proteins, so all you have to do is assemble and enjoy.
You can choose from a number of carb- and calorie-conscious options. Like Home Chef, these come in at less than 35g of carbs and less than 625 calories per serving, respectively. You'll find veggie options, like the Mixed Vegetable and Quinoa Bowl (pictured). There are some plant-based customizations available too, but I still think Fresh and Easy is a better choice for omnivores who want to add a few veggie options per week.
As well as entrees, you can add extras to your box each week, such as soups, salads, desserts, snacks, and sides. You can also pick up pantry fillers like smoothies and bread, and extra proteins in bulk, including ground beef, steak strips, shrimp, chicken, and more.
Prices start from $7.99 per serving. The meals are priced individually, and protein customizations and extras will affect the total cost.
Key Features
Macro-balanced, ready-to-eat meals

Chef selected or pick your own meals


Dietary options include keto, paleo, Whole30-approved, and more
Trifecta offers dietitian-approved plans for almost every kind of lifestyle. These include Clean, Whole30 Approved, Keto, Paleo, and Plant Based. You can't mix and match plans, as they cater to strict diets, but all promise to deliver meals that contain just the right macros to help you meet your fitness and nutrition goals.
You can pick meals yourself or have a chef choose for you. The Chef Selected option is great for anyone who wants to put healthy eating on autopilot, but it might not appeal if you're more of a fussy eater.
All the meals use high-quality, organic ingredients, and many are gluten-free. As our reviewer highlighted, on each plan you can also choose to exclude up to 2 ingredients from a brief list that you don't like, such as whole mushrooms, beef, or shellfish.
Whichever plan you choose, the dishes are always high in protein, with options like Sausage and Egg Scramble with Sweet Potatoes for breakfast, and Korean Beef Bulgogi for lunch or dinner. All the meats and seafood used are humanely raised and sustainably caught.
Alongside the food, your subscription also gives you the support of a community dedicated to nutrition education and fitness. You'll be asked a few questions about your goals and lifestyle when you sign up to help personalize your plan, while the Trifecta app helps you track your progress and gives you access to articles, challenges, peer support, and more.
Trifecta prices start from $6.00 per serving, with the option to order 5, 7, 10, or 14 entrees per week. You can also add on a breakfast for every day, which means you could order enough meals to cover your entire week.
Key Features
Certified organic ingredients, locally sourced, and GMO-free

100+ entrees on a rotating weekly menu

Dietary options include keto, paleo, low-carb vegan, and more
Fresh N Lean delivers healthy, chef-cooked meals to your door every week. Every dish on the menu arrives fresh and takes around 3 minutes to heat and serve. All Fresh N Lean's meals are certified gluten-free, too, making it a great option for those with allergies and intolerances, and the ingredients are high-quality and antibiotic- and GMO-free.

Choose from 7 different plans with up to 3 meals a day. You can also purchase extra proteins, veggies, grains, and oats a la carte from the Bulk plan, with options such as seasoned salmon, cod, chicken breast, tofu, and flat-iron steak. My colleague goes into more detail about the extras available in this Fresh N Lean review.
In addition to its most popular plans, Fresh N Lean also offers a low-carb vegan menu that's still heavy on protein at around 10g to 25g per serving. The meals are rich in plant-based proteins like lentils, beans, whole grains, nuts, and seeds but it's worth noting that on this plan you might need some extra side dishes to fuel your training, depending on how intense your workouts are.
Fresh N Lean suggests that its Protein + plan is best for athletes. With higher amounts of animal protein and energizing complex carbohydrates, it's perfect for those with a more active lifestyle.
Fresh N Lean prices start at $7.53 per serving with the option to order up to 3 meals a day 5 or 7 days per week. You can also add additional a la carte meals or snacks that will affect the total cost.
Key Features
Easy-to-follow recipes and optional wine pairings

16+ entrees available, plus tons of extras, each week

Dietary options include veggie, low-carb, low-calorie, and more
Blue Apron gets a spot on this list thanks to its brilliantly priced Wellness plan, which includes recipes packed with veggies, whole grains, and lean proteins to perfectly complement an athletic diet. These meals fall into categories including carb-conscious and less than 600 calories per serving.
Much of the menu is inspired by the Mediterranean diet, which is rich in fruits, vegetables, seafood, legumes, nuts, and unsaturated fats like olive oil. It's also high in protein, though you'll find a great selection of vegetarian dishes each week, too.
Blue Apron is better known for its meal kits, but there are some great quick-cook options available when you need to grab something fast. Shop prepared meals in the Add-Ons section, including the Miso Sesame Chicken with Brown Rice and Vegetables, as well as colorful salads and a la carte proteins – including some plant-based alternatives.
The prepared meals take a few minutes in the microwave, while most of the meal kits take around 30 to 40 minutes to make. That said, the recipes couldn't be easier to follow, as our reviewer discovered, with step-by-step instructions, photos, and follow-along videos via the Blue Apron app.
You'll even spot some Ready to Cook options on the menu, like the Oven-Baked Hoisin Eggs and Rice with Mushrooms and Snow Peas, with ingredients that just need to be assembled in the accompanying (recyclable) pan. You can also pick up extras in the Blue Apron market, including seasonal boxes and wine for special occasions and the service's signature spice blends to add extra flavor to your meals without the calories.
Prices start from $5.74 per serving when you subscribe to the largest plan of 4 meal kits for 4 people per week. Choose between 2, 3, 4, or 5 meals for either 2 or 4 people.
Key Features
Offers prepared meals and kits
16 weekly dishes, plus Plantry extras
Dietary options include gluten-free, nut-free, and high protein
Purple Carrot is great for vegan athletes who want meals that are tasty as well as nutritious. It offers meals you might find in a high-end plant-based restaurant, packed with essential nutrients, antioxidants, and minerals crucial for optimal athletic performance.
While many vegan menus lean on processed meat substitutes, Purple Carrot puts vegetables front and center on your plate. You'll find dishes with Asian, Mediterranean, and Middle Eastern influences. If you want to eat clean without sacrificing flavor, Purple Carrot is a healthy alternative. And because it is 100% plant based, Purple Carrot scores highly on our list of the best dairy-free meal delivery services.
Each High Protein Purple Carrot meal boasts over 25 grams of protein. The Mango-Glazed Brussels and Chickpeas pictured is a High Protein meal with 31g of protein and 23g of healthy plant-based fats. This helps you in recovery and muscle growth, while the 760 calories give you the energy you need for rigorous workouts.
Purple Carrot's Less Prep meals are great for hectic training days. These meals come with premade sauces and even some pre-chopped vegetables. And if you're really pressed for time, Purple Carrot also offers prepared plant-based meals that you simply heat and eat.
You don't have to be vegan to enjoy Purple Carrot meals. If you want to incorporate more plant-based nutrition into your diet, Purple Carrot is an easy and delicious way to get your veggies. Our omnivorous reviewer tried Purple Carrot at home and loved it.
In addition to meals, Purple Carrot's Plantry offers vegan breakfast items and pantry staples. You can find vegan desserts, cashew cheese, and other items that will help you increase your vegetable intake.
Pricing for Purple Carrot begins at $8.50 per serving. The minimum meal kit order is 3 kits with 2 servings each. Prepared meals come in 6, 8, or 10 meal bundles.