What's on the Vendor Menu
Eat Clean to Go provides prepared oven- and microwave-ready meals that are single-serving. But you can also purchase enough meals to satisfy couples or even a smaller family. Plus, its meals are great if you're following a more restrictive diet like paleo, vegan, or even keto.
Meal Options
You get a good selection of different cuisines like Latin American, Indian, classic American, Italian, Caribbean (Cuban), Chinese, Hawaiian, and a few more. Each dish seems to be relatively basic, which means it'll be quite suitable even for the pickiest of eaters.
There are 4 plans you can choose from – Keto, Paleo, Traditional, and Plant-Based. The Keto, Paleo, and Traditional plans have a good selection of protein options. These include chicken breast, chimichurri chicken, pulled pork, grass-fed ground beef, shrimp, ground turkey, turkey sausage, and steak.
In terms of the Plant-Based plan, you'll get a decent selection of veggie-based proteins such as beans, chickpeas, vegan chicken strips (Chik'n), and beyond sausage.
It doesn't highlight the veggies as much as vegan-specific service Purple Carrot, but I still appreciated the variety of veggie options available. One example of a great plant-based meal is the Vegan Southwest Burger with Vegan Cheese and Red Potato.
Eat Clean offers around 4-12 meals every week, which get rotated weekly as well. If you want to check the new menu for the following week, it gets updated every Thursday at 12 am (midnight) EST. As such, it recommends that you order something right away if you like it as that specific meal may no longer be available the following week.
Choices include items for breakfast like the Turkey Sausage Breakfast Pizza, and lunch/dinner. One example of a meal that can be eaten as lunch or dinner (which is also a personal favorite) is the BBQ Crusted Chicken Breast with Mac and Cheese. It's also a kid-friendly option for those of you with children.
You'll also find a few additional breakfast items like regular pancakes, keto-friendly pancakes, scones, whole wheat blueberry-stuffed French toast, and paleo almond blueberry bread. Again, Eat Clean to Go doesn't exactly have the largest selection of meal types but it's nice to see at least some variety.
I was also a bit disappointed to see a lack of any other types of add-ons, snacks, or extra protein options – but you can order regular or large portions. The large portions cost around $1 more than the standard-size portions per meal.
| | |
| --- | --- |
| Diet | Is Eat Clean to Go Good For This Diet? |
| Traditional (Balanced) | Yes, there are many options |
| High Protein | No, there are no options |
| Keto | Yes, there's an entire meal plan |
| Paleo | Yes, there's an entire meal plan |
| Plant-Based | Yes, there's an entire meal plan |
| Gluten-Free | No, the meals aren't suitable |
| Mediterranean | No, the meals are suitable |
Customization
Before you sign up, you can choose the type of diet you prefer. However, in terms of meal customization options, there really isn't much in that regard. Keep in mind that the plans can't be mixed and matched. If you like to eat a balanced diet in general but want to throw in some plant-based meals as well, you'll have to place 2 separate orders.
You also can't exclude any specific ingredients or view any type of allergens that each meal may contain. For that reason, I highly recommend being extremely cautious here if you have any serious, life-threatening allergies. You can check the specific ingredients for each meal right on the menu on the website before placing your order so you can at least be aware of what you're getting.
Its Terms of Service highly recommends that you avoid the service if you have any allergies. If that's the case, you may be better off choosing a different service altogether as it doesn't list any allergens, nor does it really talk about them anywhere on the site or in the FAQ section. Alternatively, we have a great list of the best allergy-friendly meal delivery services if you're interested.
A redeeming quality, however, is that it at least offers several meals in each diet category. Though not the most impressive menu I've ever seen, it at least puts forth some sort of effort to cater to different dietary preferences.
If you want the ability to see specific allergens listed, I'd recommend checking out Factor instead. Not only does it list all ingredients plus allergens, but it also allows you to mix and match across meal plans like Chef's Choice, Keto, Calorie Smart, Vegan & Veggie, and Protein Plus.
Your Eat Clean To Go meals will arrive in insulated bags and have ice packs for temperature control. All the meals come packed in this box in separate containers along with ingredient labels. Every meal has nutritional data printed right on it as well including protein, carbs, fat, and total calories.
Something pretty unique about Eat Clean to Go, however, is that you have to return the packaging materials. That's something I haven't seen any other competitors doing, which is kind of interesting. You're meant to place your delivery bags and ice packs outside on Sunday or Wednesday night so the driver can pick them back up while they deliver your next order.
If you don't return the packaging materials within 10 days, you'll be billed $25, according to the site's Terms of Service. Should you need to cancel your services, you can simply do so and place your bags outside for someone to pick up so that you aren't charged this amount.
Unfortunately, though, meal storage instructions are sadly not readily available. But I did contact customer service via email to find out. The agent who replied to my email said to store your meals in the fridge. They also mentioned that they don't recommend freezing the meals for longer than a day or 2.
It's up to you whether you want to take the risk and freeze your meals for later or try to consume them within around 3-5 days for optimal freshness. Also, something to note is that each meal arrives fresh and has never been frozen before.
Each food container is 100% recyclable and BPA-free. You're welcome to keep these for later use, or simply recycle them using your city's recycling program.
Eating with Eat Clean to Go is as simple as heating up your meals in the microwave or oven. If you're using an oven, the meals might take around 15-30 minutes to heat up, depending on how quickly it preheats. For microwaves, start with around 2 minutes and add 30 seconds at a time if your meals are still cold.
It's a good idea to consume the meals as quickly as possible without freezing them. If you order enough meals for 1 week, I highly recommend using the meals with sensitive ingredients first like shrimp or chicken. Veggie-only or beef meals may last longer in the fridge.
Shortlist of My Favorite Meals
Most of the meals tend to be pretty simplistic with just a few key ingredients, which also makes them quite kid-friendly. Some of my favorite meals include the General Tso Chicken with Basmati Rice and the Sauteed Shrimp with Lemon Pepper Linguine.
Both meals contain excellent calorie and macronutrient values. For instance, the General Tso Chicken contains 360 calories and 29 g of protein. The Sauteed Shrimp with Lemon Pepper Linguine contains 440 calories and 40 g of protein. That's pretty good if you're into fitness and nutrition.
You can order pretty much anything and still be safe in terms of caloric intake for the day/week. Most of the dishes on the menu contain far less than 600 calories, with only one containing nearly 700 when I checked – the Garlic Butter Steak & Shrimp with Potato Mash.

Overall, the meals here aren't the fanciest, though. If you're looking for a fancier prepared meal delivery service with a wider selection of diets, add-ons, snacks, and more, I recommend checking out Factor. It offers a broad menu of prepared meals across a range of cuisines.
Prices
| | | |
| --- | --- | --- |
| Starting from | Order size | Shipping Fee |
| Large size: $12.49 per portion | 4 meals/week: $49.96 | $9.99 |
| Regular size: $11.33 per portion | 6 meals/week: $67.98 | $9.99 |
| Large size: $11.75 per portion | 6 meals/week: $70.50 | $9.99 |
| Regular size: $9.90 per portion | 10 meals/week: $99.90 | $9.99 |
| Large size $9.90: per portion | 10 meals/week: $99.90 | $9.99 |
| Regular size: $9.33 per portion | 12 meals/week: $111.96 | $9.99 |
| Large size: $9.60 per portion | 12 meals/week: $115.20 | $9.99 |
| Regular size: $8.60 per portion | 14 meals/week: $120.40 | $9.99 |
Pricing with Eat Clean to Go is pretty straightforward. Anything you see on its menu falls under the per-serving pricing outlined above, which goes for all the breakfast items as well.
As you can see in the table above, the more you order at a time, the lower your per-serving prices will be. Delivery always costs a flat rate of $9.99, no matter where you are, and how much you order at a time. Plus, you could save additional money by using our coupon Get $120 discount over 6 weeks ($20 off per week).
At this time, Eat Clean to Go doesn't offer a refund policy. Its Terms of Service states that all charges are non-refundable and that it makes no exceptions. This seems a bit strict for my tastes. Keep an eye on the Terms of Service as this could potentially change down the road.
Shipping & Delivery
Each week's menu becomes available on Saturday at 12:01 am and ends the following Friday at 11:59 pm EST for orders for the following week. Eat Clean to Go offers delivery to all 48 contiguous states, minus Alaska and Hawaii. Deliveries are available every Wednesday between 1 pm to 9 pm EST.
Any changes to your plan must be done by Wednesday at 3 pm EST. This can be done from within your account dashboard once you've created an account.
How Eat Clean to Go Works
I was happy to see that the signup process is quite streamlined and simple. All you have to do once you land on the site is click on On The Menu in the top right portion of the page, choose how many meals you want, and continue on to create an account and check out.
Here's exactly how you do that and what to expect.
How to Sign Up
Click On The Menu at the top right: Click here to get started choosing your diet preference and how many meals you'd like for this order. Keep in mind that you can also choose whether you want regular or large portions here as well.
Enter your email address and zip code: Once you've chosen your diet and number of meals, you'll have to enter your email address and zip code.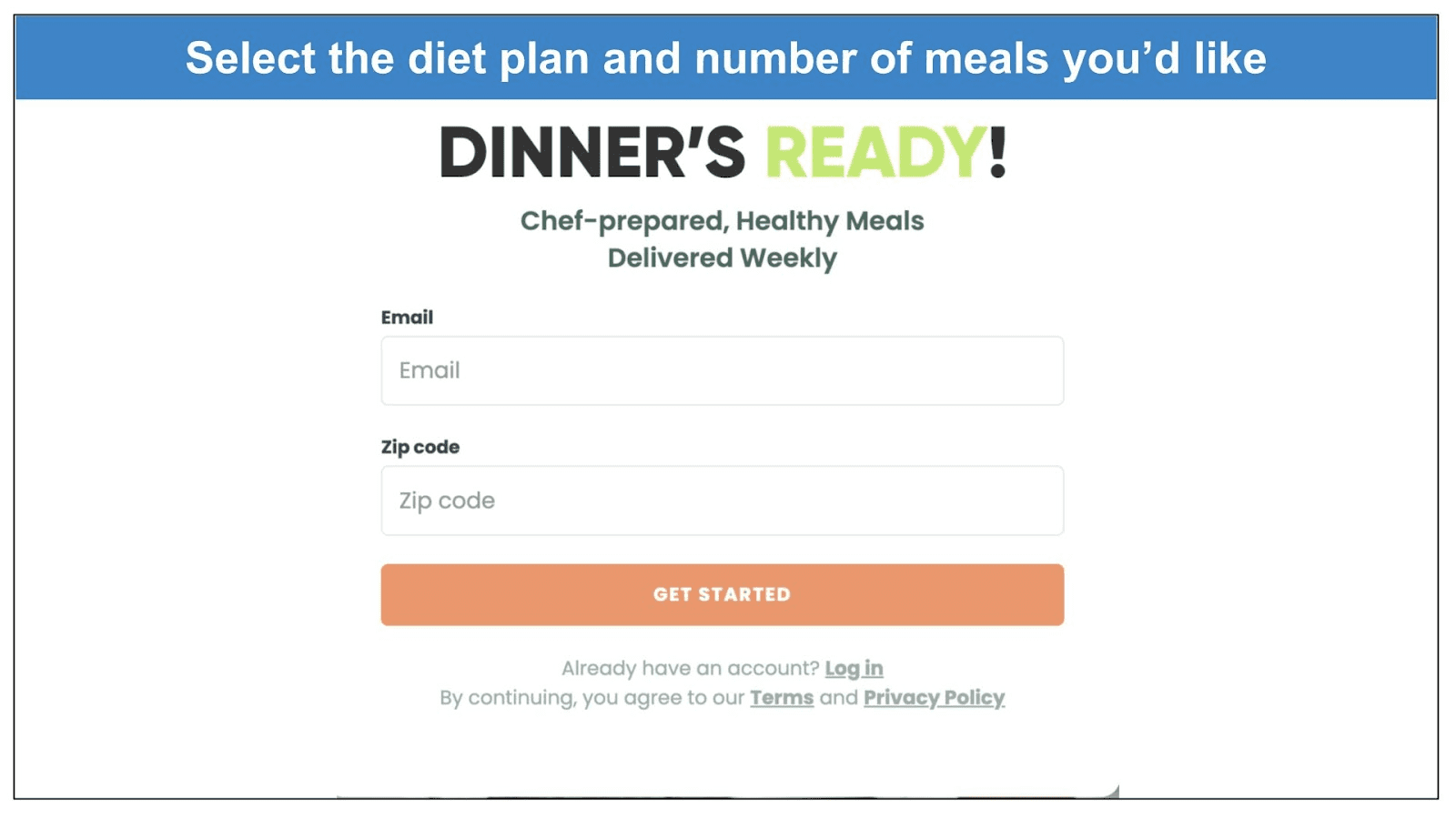 Choose your desired start date: After that, you can choose when to start your service. You can choose a date from 1 to 3 weeks in advance.
Enter the rest of the required information: From here, you'll have to provide your personal information like your name, email address, delivery and billing address, and payment information.
Choose your meals and check out: Once you've entered all the required information, you can then select your meals for this order and check out.
If you need to manage any aspect of your subscription, you can do so by logging into your account or contacting the customer support team via email or phone.
You'll be automatically signed up for a weekly subscription, so make sure to perform any changes by the weekly cutoff date. This will have to be done via a written opt-out request and must be sent via email by Wednesday of any given week at 3 pm EST.
Customer Service
The only way to contact the company is via phone at either (954) 836-7552 or (800) 305-4758. There's also an email address, but it's not immediately obvious what it is as it isn't published on the general website. If you dig around the Terms of Service, you can find it there. You can email the support team at [email protected].
I sent an email and got a reply about a day later. It wasn't super quick, but it was okay. The person who replied was professional and polite, and they answered my question. They also confirmed that their phone service runs from 9 am to 5 pm EST, Monday to Friday.
To cancel your account or deliveries, you have 2 options. You can either contact the support team who will gladly assist you, or you can do it independently from your account dashboard.

Keep in mind that there's currently no refund policy available. All purchases are final, and it seems like no exceptions are made, unfortunately.
How Eat Clean to Go Compares to Other Meal Delivery Services
Eat Clean to Go vs. Green Chef: Green Chef may be more appealing if you prioritize organic ingredients and diverse dietary plans. Offering meal kits tailored to specific diets like Calorie Smart, Gluten Free, and Mediterranean, Green Chef ensures a customizable experience. Plus, with easy-to-follow recipes, it's a suitable alternative for those seeking a health-focused meal delivery service.
Eat Clean to Go vs. Factor: This is another excellent alternative. Factor does everything better than Eat Clean to Go does and more. It uses antibiotic- and hormone-free proteins and non-GMO ingredients, and you can mix and match across all plans like Vegan & Veggie, Keto, Calorie Smart, Chef's Choice, and Protein Plus. If you have any questions you can contact the support team via email, phone, and live chat.
Eat Clean to Go vs. Blue Apron: You may prefer Blue Apron if you're looking for an established, well-known, and trusted meal kit delivery service that emphasizes variety and celebrates international cuisines. While Eat Clean to Go focuses primarily on clean eating and healthier meal options, Blue Apron offers a far wider range of meals, wine boxes, add-ons, snacks, sides, desserts, and other "Market" items.
The Bottom Line: Is Eat Clean to Go Worth It?
In my personal experience, I don't consider Eat Clean to Go to be worth it unless you specifically want keto or paleo prepared meals. But again, the inability to mix and match across plans isn't something I'm personally a big fan of. Also, the lack of customer support live chat and refund policies, and zero accommodation for allergies is a bit of a turn-off for me.
However, don't let me dissuade you. It could certainly still be worth it for you as its prices seem to be pretty competitive, especially for prepared meals. Plus, if you're just looking for basic, simple, and relatively affordable prepared meals with no bells and whistles, I still think you could find some value here.
FAQ
How do you heat up Eat Clean to Go meals?
All of the meals can either be heated up in your microwave or oven. If using a microwave, they'll be hot in around 2-3 minutes, depending on your microwave's power output. Meals in the oven take anywhere from 15-30 minutes to heat up.
Is it easy to cancel Eat Clean to Go?
Yes – it's as simple as logging into your account dashboard. You can also contact the support team via email at [email protected] if you prefer. Once you do that, you'll also need to leave any bags and ice packs outside for pickup. Cancellations must be completed by no later than Wednesday at 3 pm EST.
Is Eat Clean to Go good for weight loss?
There isn't a single food group or type that directly hinders (or aids) your weight loss goal. It's all about calories in vs. calories out. For example, Eat Clean to Go's prepared meals help you hit your weight loss goals more easily than cooking on your own as each meal has the exact calorie number printed directly on it. Therefore, you wouldn't have to calculate calories on your own.