Overview
If you look at dog meal delivery services, most of them claim to be great alternatives to traditional dog food thanks to the human-grade ingredients and clean recipes. But none of them is as alternative as Wild Earth, which is entirely plant-based.
I was very intrigued by this niche service. It boasts high-quality, cruelty-free ingredients, a vet-developed recipe that's safe for dogs, and sustainable sourcing that's better for the planet. Did you know that dogs are omnivores, like humans, not obligate carnivores like cats?
After my thorough research, the advantages of a plant-based diet for dogs are clear. First, most allergies in dogs are caused by animal-based ingredients, so that stress goes out of the window. And since the main protein is dried yeast, which takes way fewer resources to grow than meat, it's very eco-friendly.
But that doesn't mean it's perfect. From the limited menu to the use of some controversial ingredients (read: seed oils), I spill the beans on the shortages of Wild Earth as well in the article below.
Pros

Cons

No common allergens

Only 1 dog food recipe available

High-quality, nutritious ingredients

No wet dog food on the menu

Environmentally friendly and cruelty-free

Uses canola oil as a fat source


Current deal – Get 30% off your first order
Wild Earth Is Best For
Dogs who are allergic to animal-based ingredients

Pet parents who want to feed their dogs plant-based food

People concerned about the environmental impact of pet food
Wild Earth May Not Be Great For
Wild Earth Meals
The Wild Earth menu isn't very wide: there's only one dog food recipe you can order at the moment, called Complete Protein Dog Food. It comes in the Rich Umami Flavor and you can get it delivered in either 18 lbs or 4 lbs bags in the form of dry kibble.
While the recipe is safe and vet-developed, it was created with adult dogs in mind (one year or older). So, if you have a small puppy, you should check with your vet to see if it's alright to add some Wild Earth into your puppy's bowl.
The recipe is suitable for all dog breeds, but it's particularly helpful for sensitive pooches, as it's free from the most common allergens.
How? Well, since dried yeast is the main protein source, it acts like a novel protein that's easily accepted by your dog. And since the recipe is vegan, you won't have to worry about chicken, beef, dairy, or literally any other animal-sourced ingredient that can upset your dog's system.
However, it still contains wheat germs and oats, so if your pup is allergic to gluten, Wild Earth may not be the right choice. It also goes without saying that if your dog has serious allergies or health problems, you should talk to your vet to see if Wild Earth provides an appropriate diet.
When you order on the website, you have to take an in-depth quiz about your pup(s) in order to "customize" your plan. First, you need to answer the questions about its breed, age, sex, weight and weight goals, body type, activity level, health problems, and if it needs a prescription diet.
This sounds like a lot of information, so I kind of expected to see some specific changes to the food. But nope. It turns out that the only things that this quiz customizes are the feeding guidelines and, later on, the recommended supplements and treats you can add to your cart.
You can choose from three healthy treats with koji (a fungi superfood) in different flavors: peanut butter, strawberry and beet, and banana and cinnamon. In fact, they all contain peanut butter, to make them super appealing to pups.
There are also three types of supplements available to help with different health problems your dog might have: skin and coat, hip and joint, and immunity and digestion.
The kibble recipe as well as the treats and the supplements were created with the help of scientists, nutritionists, veterinarians, and other industry experts. The products meet or exceed the nutritional levels established by the AAFCO Dog Food Nutrient Profiles for Maintenance.
The Wild Earth team also looked at the European guidelines to ensure that everything meets the highest standards of quality and safety, which I think is really thoughtful.
Wild Earth is made in small USA kitchens in the Midwest, but not all ingredients are sourced locally. Some come from Latin America, Europe, and Asian countries (including China). Koji, for example, is a staple ingredient in Asian cuisine, so it's easier to buy it directly from the source.
The ingredients are high-quality, but they don't have any certifications, like organic or non-GMO. In fact, the recipe uses canola oil, which is famous for being a GMO crop.
That doesn't mean it's not safe to consume, although I have my concerns since it's a heavily processed seed oil that's not the greatest source of fat for dogs (or humans). Still, it can have some health benefits thanks to the omega-3 it contains, like helping relieve common skin irritations and itchiness and promoting a soft and smooth coat.
Apart from the oil, which is a bit controversial, I think the kibble recipe has many great ingredients with studied benefits.
The dried yeast contains complete protein, providing the 10 essential amino acids that are necessary for your dog's diet. Plus, it's an AAFCO-approved pet food ingredient and classified as GRAS (Generally Recognized as Safe) by the FDA.
There are no filler ingredients in the kibble, and since the recipe is entirely plant-based, there's no chance of "mystery" meats, "meat meals", or other problematic ingredients that are so prevalent in conventional store-bought dog food.
Small note: I keep using the word "plant-based" even though yeasts are technically not plants, but fungi. Still, they're vegan, cruelty-free, non-animal sources of sustenance, so I'll keep using "plant-based" for the sake of simplicity.
Now back to the yeast. My first reaction to the idea of vegan dog food was: but how can you make a complete and balanced meal while relying strictly on plants? When I saw that yeast was first on the ingredient list, it all clicked.
I used to be a vegan a few years back, and since then I've learned the power of yeast. It shines nutritionally, as it's a great source of protein, vitamins (especially Bs), minerals, and dietary fiber that helps with digestion.
But it also shines in taste – the intense umami flavor of nutritional yeast is something hard to beat, so there's a great chance your dog will love it. For me, even though I'm no longer vegan and I'm free to eat all the cheese I want, nutritional yeast beats even parmesan taste-wise.
If you're wondering why I'm comparing nutritional yeast for humans with the dried yeast in Wild Earth's dog recipe, it's because they're the same species of yeast. The same that gives us baker's yeast and brewer's yeast as well. This is why it's so easy to produce and way more sustainable than meat, ecologically.
The same applies to the koji in the treats. It's a fungus normally used in Asian cuisine (for humans) and takes 90% fewer resources to make than animal-based protein by weight. And it has those super-important 10 amino acids for dogs as well.
But the protein in the meals doesn't stop at yeast and koji. Other sources of protein in Wild Earth's kibble include chickpeas, peas, and potatoes.
Chickpeas contain potassium, magnesium, folate (an important B vitamin) and vitamin A. Peas bring some zinc, iron, and lysine, the last two supporting a healthy immune system and promoting muscle growth.
The oats in the mix bring healthy fats, and supply B vitamins, vitamin E, zinc, iron, and selenium. The added prebiotics and fiber (in the form of inulin from chicory root) are great for digestion.
Sweet potato contains the antioxidant beta-carotene, which is associated with healthy vision and supports a healthy immune system. Highly nutritious, it's also loaded with vitamins and minerals including vitamins A, C, B3, B5, and B6, plus manganese and copper.
The kibble from Wild Earth also contains guaranteed amounts of DHA, taurine, and L-Carnitine which help with heart health and brain development.
Let's take a look at the Guaranteed Analysis of the Wild Earth kibble recipe:
At 31% crude protein, it's very high-protein dog food – as it should be. The minimum recommended is 18%, and it's almost double that amount. Without any meat in the recipe, I think that's impressive.
The fat is around 10%, which is also pretty good. I also appreciate laying out the omega-3 to omega-6 contents, so we can see that the ratio is also in a healthy range.
Now let's talk about how the kibble is actually made.
Like traditional kibble, Wild Earth is made using a technique called heat extrusion. It uses relatively low temperatures and a short cooking time, especially when compared to baking, so the nutrients and vitamins lost in the process are minimal.
You may be wondering – isn't kibble unhealthy for pets? That's what everyone's saying! Well, it might be true that kibble made with meat and other animal products poses greater risks to your pet's health, especially if it's overcooked.
But starchy meals like Wild Earth don't have this problem. By eliminating meat from the recipe, it eliminates the disadvantages of kibble as a medium. Which is great, because it's so convenient.
Plus, compared to meat kibble, the final product is way less processed, since there's no need to render and pre-process meats by creating slurries or powders.
The final recipe is tested for vitamins, minerals, and other important nutrients so that it meets or exceeds recommended AAFCO nutrient levels.
Now let's talk a bit about the supplements. If you want to maximize the health benefits and feed your dog all three of them, you totally can. Just keep in mind that it's best to spread them out throughout the day if you're doing that, so there's less chance of any stomach upset.
Unboxing
Since Wild Earth comes in bags of either 18 lbs or 4 lbs, your box will look like any other box when you order pet food. You can store the bags in a cool and dry place, but they don't need refrigeration or other special treatments. A cupboard will do.
You won't have to cook or prepare anything at feeding time, just follow the feeding guidelines in regard to the portion sizes. You get customized recommendations for your pup at the end of the quiz, but you can also use the standard ones on the website.
The packaging for the treats and supplements is recyclable, so that's good news. The treats bag is plastic number 5, and the supplements bag is plastic number 2, so you should have an easy time recycling them.
The bad news is that the kibble bag isn't recyclable. To ensure that the product remains fresh and pristine, the plastic is laminated and multi-layered. Wild Earth is currently looking for an alternative that's more eco-friendly and still meets its strict standards.
In the meantime, you can take solace in the fact that Wild Earth's food production requires less water and emits less CO2 than mainstream meat-based kibble, so you're already doing more for the environment by choosing this brand.
Shipping & Delivery
Wild Earth delivers to all 48 continental US states, like most dog meal delivery services. What I found interesting is that it also claims to deliver to India (of all places), but when I tried to select a country other than the US when filling in the shipping info on the website, I couldn't. Who knows!
You can expect your box to arrive in three to eight days after ordering, depending on where you live. After that, you can select your preferred shipping frequency anywhere from every two weeks to every 12 weeks. I think that's super flexible and accommodating for dogs of all sizes.
I was also impressed with how easy it is to reschedule your delivery or change the shipping frequency in just a few clicks. You can read more on that below.
On the same topic, what I really appreciate is that there's a special page on the website dedicated to checking your order by using the tracking number. Many services leave that part to the carrier, but Wild Earth makes an effort to integrate tracking into the website so you have everything in one place.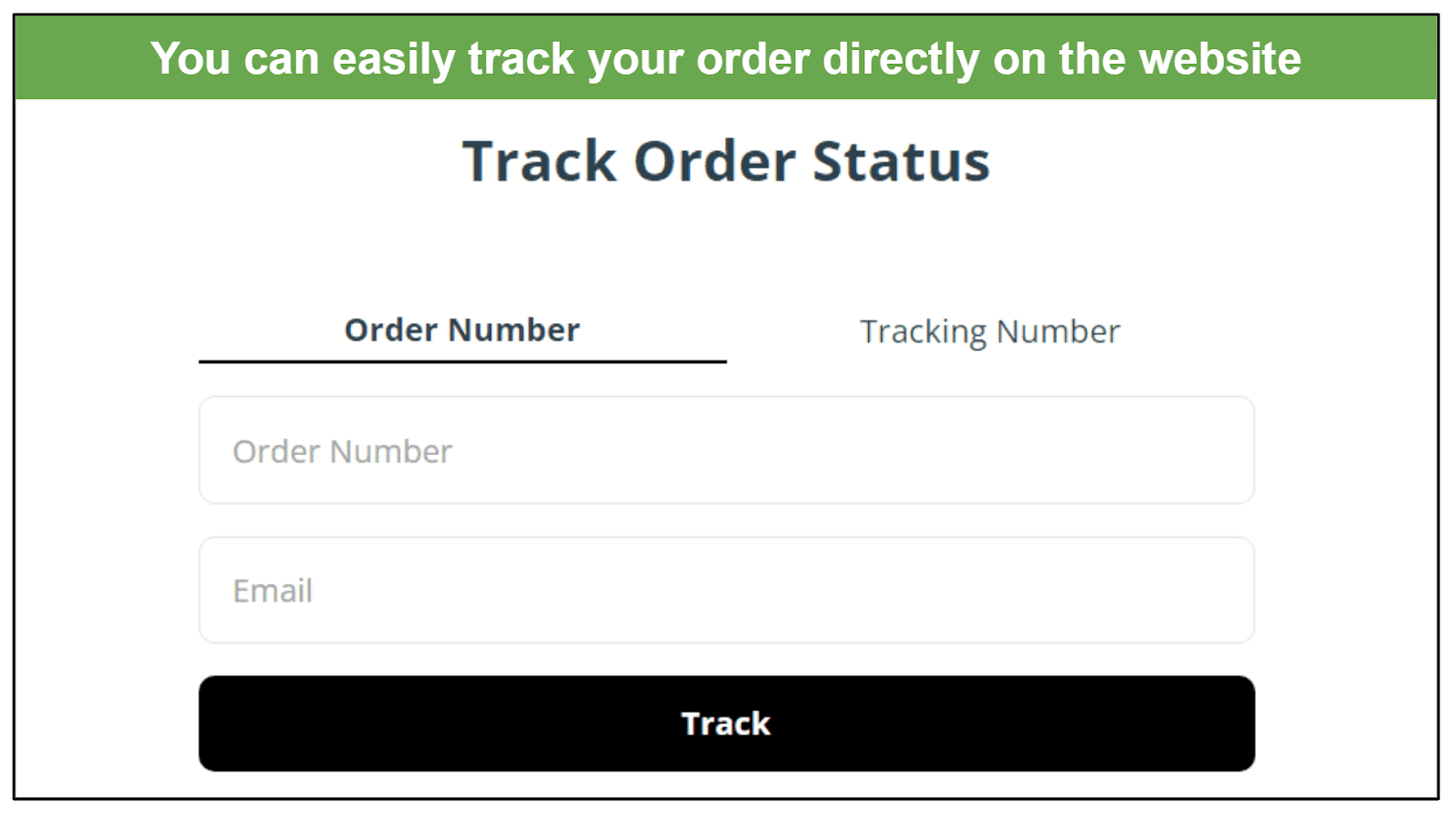 In some rare cases, your order can be marked as Delivered or Delivered in Full, without it actually arriving at your door. If it doesn't arrive one or two days later, you should contact the customer service team. It can be old porch theft, or your package can be lost in transit, so it's best to check.
Ordering from Wild Earth
It's super easy to order from Wild Earth and manage your subscription, including pausing or canceling your plan.
How to Sign Up
Go to the website. Click on Build your meal plan.

Take the quiz. Answer the questions about your dog(s) and see the recommended feeding guidelines. Click Continue to go to checkout.

Add supplements or treats to your cart. This is optional, but based on your quiz results you might get some recommendations.

Review your order. This includes setting your desired shipping frequency for each item.

Fill in your delivery information. You can now see your order summary.

Pay for Aaand you're done!
Managing Your Subscription
It's easy to change an order or cancel your plan with a few clicks on the website. No talking to customer service, no writing long emails.
To cancel, you need to log into your account. Under the subscription you want to be canceled, click Cancel subscription. Lastly, click No thanks, I'd still like to cancel my subscription and complete the required fields. That's it!
To skip an order or pause your subscription, click Change in the Next Charge section. Then, click the calendar icon, select your shipment date, and then click Select Date. That's when your next shipment will arrive. Couldn't be more simple.
Customer Service
You can contact Wild Earth's Customer Success team either the old-fashioned way (email) or by writing in the 24/7 online chat on the website. There are three different buttons you can click to initiate a conversation, so it's hard to miss.
I was a bit reluctant when I saw the claim that you get in touch with a real person "within 30 seconds". When I started a chat, I saw that the usual reply time is "a few minutes", which is still pretty quick. But, to my surprise, I got a reply the same minute I sent the message!
It appeared that Sebastian is indeed a human being, and his answer to my question was detailed and helpful. I told him that I was impressed by his quick response time and he continued to be lovely and approachable.
I have to say, I really liked my experience. Plus, I wasn't even a customer yet, so this shows how open the company is to answering anyone's questions, even if they're just considering their options.
After the conversation, I got an email with the receipt of everything we talked about, so the info doesn't get lost. I thought that was a smart idea.
Another great thing about Wild Earth's client policy is that you can have your dog try the food commitment-free. How? There's this thing called Happiness Guarantee, which basically means that if your dog doesn't lick the bowl clean, you can ask for a full refund of your first bag within 30 days, no questions asked.
Wild Earth Recalls
Wild Earth hasn't had any recalls to date. Phew!
Prices
| | | |
| --- | --- | --- |
| Starting from | Minimum Order | Shipping Fee |
| $5/lb | 4lb bag: $39 | Free for subscriptions, otherwise $2.95-$19.95 |
The price per portion for Wild Earth's kibble depends a lot on the size and activity levels of your dog. For a 40-lb dog, you'll need about one large bag every four weeks, while a small 4-lb puppy will only need one small bag every six weeks.
For one-off orders, a small 4-lb bag costs $39, so $9.75 per lb. The cost drops to $5 per lb for the big $90 18-lb bag, so it's a better choice to order in bulk if you want to keep costs low. The shipping for one-off orders can be as high as $19.95, so pretty costly.
Subscriptions come with way better deals. If you choose a subscription, you get free shipping on all orders and 50% off your first order. Additionally, every repeated delivery has 10% off, so you save a lot in the long run.
And if you use our special discount, you can save even further and get closer to the price of mainstream kibble, with none of the downsides.
The supplements cost $30 in one-off orders, so around 50 cents apiece, but drop to $27 for subscriptions. There are 60 pieces in a bag, so they should last around two months. Luckily, you can set different frequencies on different items in your order.
The peanut butter and koji treats cost $10 for one-off orders, so $7 for subscriptions. A bag is 5oz, so depending on how much you want to spoil your pup, you'll probably need to order more than one bag.
The Bottom Line: Is Wild Earth Worth It?
I think Wild Earth is a very unique product that can solve lots of problems. If your pup has allergies or sensitivities caused by allergens like chicken, beef, or dairy, Wild Earth's plant-based formula can be a great relief.
Plus, unlike cats, dogs can actually thrive without meat, so if you're following a plant-based diet for ethical or ecological reasons and you feel icky about purchasing meat-based dog food, Wild Earth is the perfect solution.
If your dog is sensitive but has an aversion to kibble, you can check out our list of the best fresh dog food delivery services. They're not plant-based, but they're high-quality, human-grade, and made with fresh ingredients that may appeal to your pup more.
FAQ
Is Wild Earth vegan?
Yes, Wild Earth is vegan. Everything on the dog's menu is made with cruelty-free, non-animal ingredients. When I researched the recipes I found out that the main protein source isn't meat, but rather dried yeast, very nutritious fungi that you probably already know as "vegan cheese" for humans. Plus, it contains protein from chickpeas, peas, potatoes, oats, and a myriad of healthy veggies.
Is vegan food good for dogs?
Yes, you can actually feed your dog vegan food safely. Dogs are omnivores, unlike cats, so they can get all the nutrients they need from plant-based sources. A meal delivery service like Wild Earth can provide complete and balanced plant-based nutrition for dogs, as the recipe was developed by professional veterinarians and nutritionists.
Is Wild Earth good for dogs with allergies?
Yes, Wild Earth is a wonderful choice if your pup has common allergies like chicken, beef, or dairy. You can read about Wild Earth's plant-based ingredients that include superfoods and nutrient-packed veggies with numerous health benefits. Since there's no animal-based ingredient in there, it's a safe bet for most sensitive pooches. However, it does contain grains, so it's not gluten-free.