Overview
Kibble can often be seen as a less healthy form of food, especially for dogs. Often, it can contain a lot of low-quality items like processed foods, artificial flavors, preservatives, and bottom-of-the-barrel ingredients not good enough for human consumption. Jinx, however, turns this notion upside down.
Jinx offers meals containing only high-quality, professionally-inspected ingredients. These include real animal proteins including organic chicken or salmon, natural superfoods like grains, vegetables, and carbohydrates, and patented probiotics which include over 40 million microorganisms for better gut health. Its meals also contain no fillers, artificial ingredients or flavors, or preservatives.
I've thoroughly tested and researched Jinx in order to provide you with an unbiased review. You'll learn if it truly is an affordable, healthy, and delicious kibble and snack delivery service that your dog will go crazy over.
Pros

Cons

Recipes made of whole foods

Bundles can't be mixed and matched

Corn-, soy-, and gluten-free

Only 3 bag sizes of kibble

Meals contain probiotics

Customer support took a while to respond


Current deal – Subscribe and save 15%
All meals are created by industry experts like animal scientists, formulators, nutritionists, veterinarians, manufacturing partners, and regulatory specialists like the Association of American Feed Control Officials (AAFCO).
Jinx's ingredients are corn, soy, gluten, and artificial ingredient-free, and are even good enough for human consumption. Jinx is suitable for dogs in all stages of life from puppies all the way through to seniors.
If your dog has any specific allergies or health concerns, I'd strongly recommend consulting your veterinarian before moving them to a new diet. There's no customization possible for any of the products and what you see is what you get.
Jinx gives you the opportunity to purchase individual kibble bags, Essentials Bundles, or kibble samplers that offer a couple of small, 4 lb bags for your dog to try. You can also purchase treats, dental chews, and kibble toppers.
If you choose only the kibble bags, you'll get access to four flavors – Organic Chicken and Sweet Potato, Grain-Free Organic Chicken and Carrot, Salmon and Sweet Potato, or Grain-Free Salmon and Carrot. Each kibble-only plan comes in two sizes of bags – 11.5 lbs or 23.5 lbs.
The Essentials Bundles include one bag of kibble, one bag of kibble topper, and one bag of dental chews. This is a great option if you want to get more for your furry friend than just plain kibble.
These bundles come in four varieties as well – Chicken Essentials, Grain-Free Chicken Essentials, Salmon Essentials, and Grain-Free Salmon Essentials.
Lastly, you can grab the dog kibble sample packs. These are comprised of four options – Organic Chicken Kibble, Salmon Kibble, Grain-Free Kibble, or Grain-Friendly Kibble. One important thing to keep in mind is that everything can be purchased separately if you want. This includes kibble, kibble toppers, treats, and dental chews.
Ingredients
The ingredients Jinx uses are pretty much set in stone. Ingredients are sourced from strictly vetted manufacturing partners that have been fully verified by animal feed authorities.
All of the ingredients are human-grade and are based 100% on whole foods only. This includes organic chicken, salmon, sweet potatoes, and plant-based ingredients as well.
For example, the most popular kibble – the Organic Chicken and Sweet Potato recipe – is mostly made up of the following ingredients: 20+ functional superfoods, pumpkin (for heart health and digestion), brown rice (for sustained energy and fiber), 20 million probiotics (for gut health), and added taurine (for additional heart health).
I was really impressed to see that, in addition to there not being many fillers, the recipes were entirely composed of whole foods. This ensures a very healthy diet for your dog.
Nutrition
The same recipe – the Organic Chicken and Sweet Potato kibble is also composed of about 27% crude protein, 14% crude fat, and 5% crude fiber. The overall calorie content is about 380 kcal per cup.
I found that most, if not all of the kibble fell into very similar macronutrient and calorie ranges. Any kibble you choose will have a discrepancy of a maximum of about +/- 5%.
Unboxing
Unboxing your Jinx products is pretty straightforward. Everything comes inside a box, is neatly delivered by FedEx, and is nicely labeled. Information is readily available on each bag including the Ingredients List, Recommended Adult Daily Feeding amounts, Guaranteed Analysis, Caloric Content, Transition Guide, and more.
Jinx tends to toss in some extras as well inside each box like Jinx Bites for your dog to try out. I found this to be a nice addition and a special touch that I really appreciated.
All of Jinx's delivery boxes are asked to be recycled – however, the bags used for the dog treats and kibble can't be recycled.


When it comes to the meals, they're not pre-portioned, but feeding guidelines are on the website and on the backside of each food package. Of course, since all you have to do is pour out the food and feed your dog, there's no prep involved with any of the meals.
Storage instructions are to keep the food in an airtight container in a cool, dark, and dry room with a temperature between 40-70 degrees Fahrenheit for maximum freshness.
Each bag of food will have a best-by date printed on the label. If you'd like an idea of how long it lasts before buying, customer support confirms that it'll last about one year, following the right storage procedure.
Shipping & Delivery
All shipments are made using FedEx Ground shipping, within the 48 Contiguous United States. Jinx currently ships via FedEx, which, unfortunately, doesn't deliver to P.O. boxes or APO/FPO/DPO addresses. Orders over $35 are always free. If you decide to subscribe, you'll save 15% off your first two orders along with an additional 5% off any subsequent orders.
You can choose shipment frequencies of between three and eight weeks for your subscription. Depending on how often you need to stock up on dog food, this was a nice benefit to see. You're not stuck only being able to order once a month if your needs are variable.
In terms of rescheduling or skipping a delivery, according to the Jinx FAQ section, you can "do this anytime". You don't even have to necessarily sign up for a subscription – you're welcome to purchase a la carte as well.
Ordering from Jinx
Ordering from Jinx is about as easy as it gets. Choose from bundles, kibble, toppers, treats, or dental chews. Simply choose how many of each type you want, and how often your subscription should deliver new orders.
How to Sign Up
Click Account in the top left. The first step is to head over to the website. Then, from there, click on Account.
Follow the prompts. From there, simply follow the rest of the prompts to finish your account signup process.
After this step, you're welcome to head to the Shop section in the top left to begin shopping for your favorite kibble or bundles.
Managing Your Subscription
You can manage all aspects of your subscription from within your account dashboard. Here, you can change the frequency of delivery, bag sizes, and swap out delivery dates.
Customer Service
After attempting to get in touch with somebody from the live chat team at around 11 am on a weekday, I was a little upset to find out that nobody was online. The message I received said they would be back at 12 pm. No time zone was provided either, so I had no idea of knowing what time that actually meant.
However, once I received the confirmation email that my message had been received, Jinx finally let me know that the support hours of operation are from Monday to Friday from 9 am to 5 pm PST. Again, it's a bit disappointing to see that this information isn't readily available on the website.
Once I did get a hold of someone, it was actually via email. And not more than about one minute after the support team opened for the day did I have an email waiting for me to review. Though the live chat feature was a bit disappointing, at least I was able to get an email super fast. My question was answered in detail, with no stone left unturned.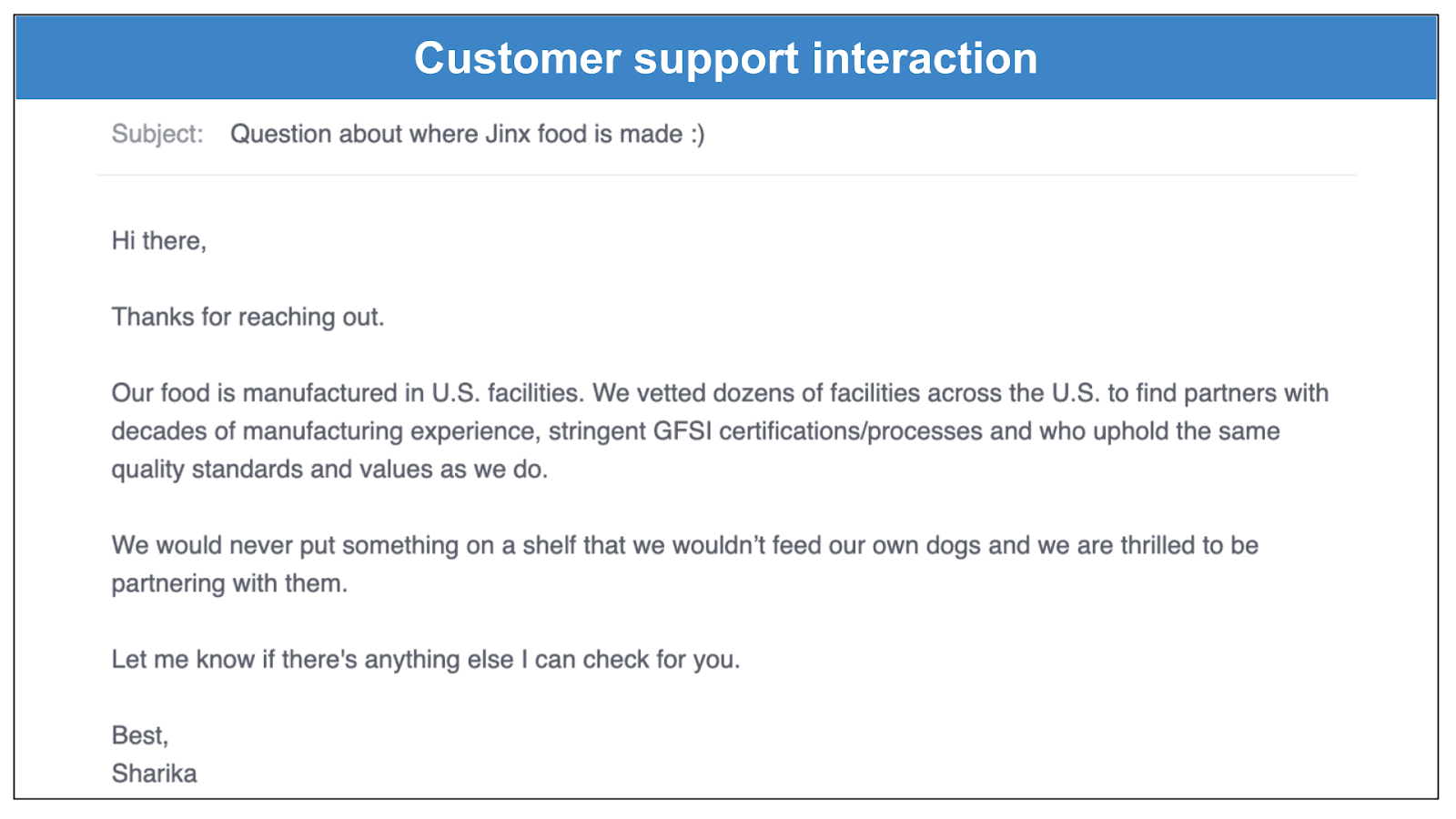 Vendor Recalls
Jinx has never had to recall any of its products.
| | | |
| --- | --- | --- |
| Starting from | Minimum Order | Shipping Fee |
| $30/bag | No minimum | $5 for orders less than $35; free shipping over $35 |
You can order in two ways: subscribing or buying separately. When you subscribe, you'll save 15% off your first two orders, then 5% for subsequent orders. Here's how that all breaks down.
Pricing for bundles starts at $20 for treat bundles and $30 for kibble samplers. If you would rather purchase separate kibble bags, they start at $40 for the 11.5 lb bag and $65 for the 23.5 lb bags. With a subscription, the price reduces to $34 and $55.25 respectively.
Freeze-dried chicken and salmon topper bags cost $10-$28 depending on whether you buy a single pack, two-pack, or three-pack. With a subscription, you'll save 15% off the price. There's also the topper superpacks where you get four bags for the price of three.
Dog treats cost between $8 to $10 per bag. Again, with a subscription, you'll save a bit extra on those.
Lastly, dental chews can be had for $10 a bag. Each bag contains four large dental chews – but no discounts are offered for subscribers here.
If you or your dog are unhappy with your order, you can get a full refund from Jinx. They don't ask any questions. Since they don't require you to send your product back, you can dispose of it or donate it somewhere.
Keep in mind that, if you've placed several orders of the same product, Jinx will only refund the most recent order. Shipping is free for orders over $35 and $5 for smaller orders (no matter where you're located) and takes two to four days. One to two-day expedited shipping is also available and costs $20.
You also don't have to sign up for recurring deliveries. With Jinx, you're fully able to order on a one-time basis. However, signing up for a subscription saves you money in the long term, especially if you know you'll be re-ordering again. But if you just want to try things out once to see how it is, single orders might be a great alternative for you.
The Bottom Line: Is Vendor Worth It?
There's no one-size-fits-all answer to whether Jinx is worth it to you. If you want your dog to have access to scientist-verified, veterinarian- and animal professional-approved food that's based on organic, whole food ingredients, Jinx could be it for you.
Jinx diligently scrutinizes all its manufacturing partners to ensure they meet strict AAFCO standards. Generally, I've found Jinx to be one of the most reasonably-priced dog food delivery services in the US, especially when considering that many store-bought brands can be equally costly.

Once you factor in the 15% savings for your first two orders, and the 5% savings for any subsequent orders when signing up for a subscription, to me, it becomes a no-brainer to give Jinx a shot.
FAQ
Is Jinx dog food human-grade?
Yes. Jinx uses whole foods like real chicken and salmon along with over 20+ natural plant superfoods and a patented probiotic. Additionally, Jinx doesn't use any corn, soy, gluten, or artificial ingredients anywhere in its product line.
Where is Jinx dog food made?
All of the food Jinx makes is manufactured in the US. Jinx works closely with pet food industry professionals ensuring you're getting the highest quality ingredients for your furry loved ones.
How much is Jinx dog food?
Jinx dog food ranges start at $30/bag but can go up to $65+ depending on what you order. Types include kibble, kibble toppers, dental chews, treats, and bundles. The price also depends on whether you sign up for a subscription, or order on a one-time basis.